Top Headlamp Reviews
Headlamps – in my humble opinion (aka IMHO), you can never have too many. Seriously, we must have a dozen or more scattered around. I have mine permanently stored in fishing gear, hiking packs, ski bags, bedside tables, cars and everywhere else they might be needed. Most of the higher powered products (approaching 200 lumens) can be had for less than $50 MSRP. Those with lower outputs hover just under $20 so there's really no reason not to have an arsenal of them just in case. Here are three great options that have served us well in a variety of conditions.
Black Diamond Wiz


Call this dude an entry-level product. The Black Diamond Wiz is the baby of the group we're reviewing here. Light output is a miniscule 16 lumens from three LEDs according to Black Diamond. That's enough for reading by the fire and finding your way around the campsite, but it's not a major survival tool. I've had mine for years and the product served me well. It's light at 1.875 ounces. And the strap is narrow at 0.75 inches, soft and very comfortable to wear. The head pivots up and down for convenience too. Three programs operate from the single switch including bright, dim and flashing. Press once for bright, twice for dim and a third time for flashing. There is no red LED for night vision.
Final Verdict
[Rating:3/5]
LED Lenser SEO 5


Leatherman — the storied manufacturer of multitools — acquired LED Lenser back in 2011. This German company built its product line into the number one LED light in Europe. They have a combination of lens and reflector that increases the visible light of their products ahead of their lumen ratings, according to the company. And frankly, we can see it. The LED Lenser SEO 5 is bright with a maximum lumen rating of 180, more than 10x of the Black Diamond Wiz. But it seems even brighter. All I can say is never look into the light, it's that powerful.
The LED Lenser SEO 5 is heavy at 3.625 ounces but remains comfortable. The strap is one-inch wide. Like the Wiz, the LED Lenser SEO 5 has five modes all operated from a single switch. For while light, you get bright, dim and flashing. For red light, you get a single brightness setting and flashing. Switching from white to red is a touch tricky (from the off position, press and hold the single switch for two seconds to switch between the colors). In addition, the SEO 5 has a focusing ring that allows the beam to broaden for lighting an entire tent or focusing on specific items at a distance. The head pivots for additional flexibility.
Final Verdict
[Rating:4.5/5]
Princeton Tec Vizz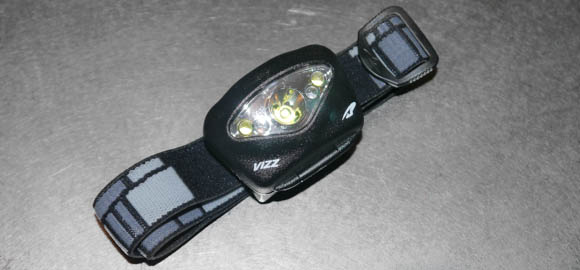 The Princeton Tec Vizz is in between the two above headlamps, and boasts some pretty unique features to boot. The lumen rating is 165 for the maximum brightness, but I must admit it pales in comparison to the LED Lenser. It's still good, mind you, but 15 lumens and the LED Lensers proprietary reflector/lens technology makes a huge amount of difference. What the Vizz lacks in brightness however is more than made up for in flexibility. Their are four LEDs total. The center LED is for the max brightness setting. Outside of that are two additional white LEDs that are infinitely variable. Hold the switch down and these LEDs will roll up and down to adjust to exactly the setting you want. LED night vision in red is also accessible via the same switch.
The headband is one-inch wide and the headlamp tilts up and down for greater flexibility.
Final Verdict
[Rating:4/5]
One of my other favorite headlamps is also from Princeton Tec. It's called the Fuel and it packs four LEDs into a barrel shaped container. Operating on three AAA batteries, this little guy pumps out 70 lumens and is great for all around use. I must have six of them stuffed into various packs and bags for emergency use.
Thanks for reading another outdoor gear review from GearGuide. And thanks to Leatherman/LED Lenser, Princeton Tec and Verde PR for providing product for this review.