First Impressions
Whoa there LowePro, that's one heck of a name Photo Hatchback 16L AW. The name is certainly descriptive. And the backpack itself is nicely turned out too. Our sample arrived alongside its cousin, the Flipside Sport 15L AW (another mouthful but equally descriptive name), and jumped out of its shipping container in bright pepper red (which actually looks a little more like orange than red to me).
Features
The Photo Hatchback 16L AW is the smallest of the products in this particular line from LowePro. The company offers a slightly larger 22 liter unit for those that need more capacity. Both products use the signature "hatchback" approach to camera storage. In other words, the camera and other photographic gear is stored in a small padded compartment accessible only from the back of the pack. That container is removable, configurable and has room for one camera body and attached lens, along with the potential of two additional lenses and other accessories. It fit our compact system camera of choice – the Panasonic Lumix G3 – two zooms and two battery chargers without a problem. Inside the lid of the container is a small pouch designed to hold SD cards. Very nice touch.
In addition, there are two additional storage pockets on the front side of the Photo Hatchback. The first is located at the top of the pack. It's large enough to hold a lightweight rain jacket, lunch and a few additional accessories including keys (in a smaller interior pocket). The second exterior pocket is designed for flat items and includes a sleeve for your tablet of choice. My iPad fit without any problems.
Specs
Construction: Nylon
Weight: 2 lbs
Also on the exterior, LowePro places two tall stretch mesh pockets for holding water bottles and the like. Should things turn wet out, LowePro includes a built-in cover which unfurls from its own pocket located at the bottom front of the pack.
Fit
The Photo HatchBack comes with a no frills set of straps and waist belt. No load lifters and fancy padding, but I don't think that's necessary. The fit was perfect and we ultimately removed the belt completely from the pack. As a nice touch, LowePro did include a sternum strap that keeps the pack from rolling off your shoulders.
Final Verdict
The LowePro Photo Hatchback 16L AW delivers what you need in a CSC camera bag. Not too bulky but plenty of carrying capacity, room enough for one body, multiple lenses, a tablet and more. We liked its streamlined profile. In contrast, the Flipside – even though it hauls one liter less – has a much taller profile. It's also capable of carrying a fuller kit in its more cavernous storage area. If you're more of a DSLR user, check that one out instead.
Thanks for reading another outdoor gear review from GearGuide. And thanks to Daymen for providing product for this review.
Final Verdict | LowePro Photo Hatchback 16L AW Review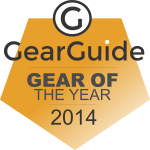 Not too bulky but plenty of carrying capacity, room enough for one body, multiple lenses, a tablet and more.