First Impressions
I don't know what Umpqua did in the design of their new vests and packs. Whatever they did, they did it right. So far this year, we had the chance to test their Ledges Waist Pack and the Deadline 3500 Duffel. Both provide standout performance. But the product we've been most looking forward to trying is the Swiftwater Tech Vest. Something about it delivers immediate appeal. And that seems to be the case no matter who I show it to. They immediately gravitate to the look and the thoughtful configuration that goes far beyond what you expect from a new market entry.
Features
Maybe part of the appeal lies in the Swiftwater's ability to do more with less. Whereas some manufacturers try to cram more pockets onto a product, Umpqua opted for fewer. On the front of the Swiftwater, Umpqua placed just six pockets, two larger main pockets, two smaller flat pockets behind them, and two small upper pockets. Add to that stretch mesh pouches, and a couple of interior mesh pockets, and that's it on the front of the vest.

Despite that economy, we could fit everything we needed to in the Swiftwater. Two large fly boxes, extra leader and tippet material, smaller fly containers, desiccant, Thingamabobbers and other accessories all seemed to find a natural spot in the pack vest. Most of those pockets have clever stretch mesh organizers to keep everything in place.


The Swiftwater also brims with clever touches. Umpqua places two special sheaths for forceps on the front of the vest. There are multiple attach points for zingers (none built in). Little sleeves keep accessories from banging around. Hidden inside the vest are two handwarmer pockets too.
Specs
Fabric: Nylon
Weight: 2 lbs
Capacity: Estimated 50 cu in/0.5 l
Around back you'll find lightweight mesh for easy breathability on hot days. You'll also find a pocket large enough for a hydration bladder. They also added a small lower pocket with side zippers making things easy to retrieve while wearing the Swiftwater. And if that's not enough storage, simply unclip the back and attach Umpqua's Surveyor backpack for a whole lot more.
Fit
Did I mention that the Swiftwater is also very light weight? At just over two pounds, that's another reason to applaud this Umpqua product. It rests easily on the shoulders and the waist belt helps distribute the load and brace the back.
Final Verdict
The Umpqua Swiftwater is one of the most appealing entries into the vest pack market ever. It's cleverly designed, lightweight, good looking and hard wearing. Umpqua's modular approach also make it extremely versatile. At $179, the Swiftwater is not cheap but it's definitely one of the best, most versatile pack vests on the market. Recommended.
Thanks for reading another outdoor gear review from GearGuide. And thanks to Umpqua for providing product for this review.
Final Verdict | Umpqua Swiftwater Tech Vest Review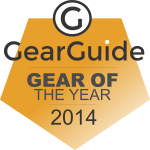 The Umpqua Swiftwater is one of the most appealing entries into the vest pack market ever.