This is the tale of two fly rods – one custom made, the other off the shelf. They both started life on the other side of the planet, as blanks made in the Far East. One completed its build there. The other traveled to Pennsylvania – to the shop of a guide and fly fishing enthusiast – and received all the final touches in the good old U.S.A.
Here's the quick overview: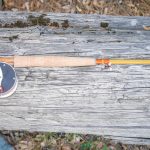 Mountain Brook Spring Creek Fiberglass Rod – This seven foot, six inch five weight rod is constructed using a custom blank in Herndon, Pennsylvania by Mike Buriak. It's a tight three-piece rod with spigot ferrules and made-to-order details. Very reasonably priced at $250. Read full review.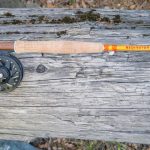 Redington Butter Stick Fiberglass Rod – An off-the-shelf variety, made from T-Glass and built 100 percent in China. We fished the seven foot, six inch four weight. This tip-over-butt-constructed rod feels soft in the hand, includes some nice detailing and also hits that $250 price (okay, it's MSRP of $249.95). Read full review.
Both rods traveled the globe to get to California where we tested them on the Yuba River in early August and September 2014. Despite the severe drought conditions, we found more than a few trickles in both the North and South Forks of this Gold Country stream to give these rods a fair shake.
Thanks for reading another outdoor gear review from GearGuide. Thanks to Redington and Backbone Media for providing products for this review. Also a big thanks to Mike Buriak at Mountain Brook Fly Rods for working with us on the custom build.