We hate Standard Time. In fact, if it were up to us, we'd get rid of it altogether. Seems like a holdover from times gone by, an antiquated nod to our agricultural past. But of course that's not our call. Now, we're forced to deal with the early darkness and colder temps as we head into winter. How do we cope, you might ask? Well, with a healthy dose of fleece. Just warm enough to ward off the chill yet light enough to keep us from overheating. Perfect for a late afternoon cruise through the neighborhood or out on the trail. We had the recent chance to try two womens hoodies that are perfect for this shoulder season. Here's the results.
Bergans Cecilie Fleece Hoodie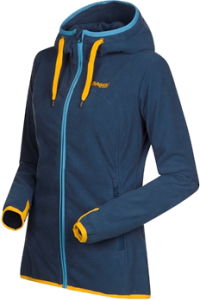 Bergans, the famous outdoor goods manufacturer from Norway, recently came to the U.S. And you can now find the brand at places like
Moosejaw and Campsaver. The company thinks through each product and often provides some very thoughtful features that you might expect from a company used to supplying products for extreme temps and long winter nights. The Cecilie is one such example. The product represents just one member of the Cecilie family designed in collaboration with the Norwegian woman mountaineer Cecilie Skog. It's made of 100% polyester fleece, features the aforementioned hood and two front pockets. The wrists close with elastic and Bergans provides thumb holes so you can use the jacket as a partial glove to keep your hands warm in a pinch. Our sample came in a relatively uninteresting gray and yellow color combination (other colors including blue/yellow, green/pink and red/yellow are available). Its features won us over however. In fact, we liked it so much we might just be shopping for other members of the Cecilie family of products for Christmas. Available at
Moosejaw and Campsaver and other retailers.
Mountain Hardwear Snowpass Fleece Hoodie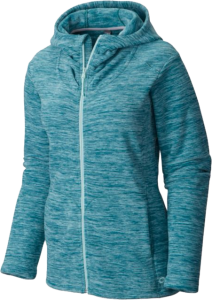 The Mountain Hardwear Womens Snowpass Jacket stands out because of its great heathered colors. It's available in five variants including rasberry, black, teal, blue and khaki. The jacket is both warm and softer than the Cecilie. But it misses some of the nice detailing of the Bergans' product. There are no thumbholes, for instance. The Cecilie's pockets are much deeper and zippered for safe storage. The Cecilie also boasts a lapped zipper to better keep out the cold and drawstrings to customize the fit of the hood. The Mountain Hardwear Womens Snowpass Jacket is still a worthy companion. Available at Moosejaw.
[ad name="PriceGrabber 660×198 Matrix"]
Thanks for reading another outdoor gear review from GearGuide. And thanks to Bergans and Mountain Hardwear for providing products for this review.