Winter certainly closed in over the past several weeks putting a slight damper on our outdoor activities. We have managed however to put a few mountain biking gloves through their paces in the trails around GearGuide HQ. In fact, we tried two new products from European manufacturers. The first is from Endura, a UK-based company that makes a range of road and mountain biking apparel and accessories. The second is Ion. They're based in Germany and manufacture a whole range of products for biking and kite surfing. We also continued to employ one of our favorites from U.S.-based Dakine and you'll find a quick update on that earlier review below.
Endura MT500 Glove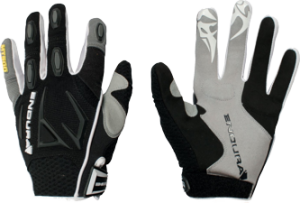 I ran across the Endura MT500 Gloves in a local bike shop recently and was instantly intrigued. Sitting on a rack of other Endura products for both road and mountain biking, the bright orange color and protective panels across the back of the hand and fingers immediately stood out.
Turns out, that the MT500 is but one of a whole range of offerings from Endura that target the needs of rugged trail riders. There are jackets and jerseys, shorts, pants and other items in the line. The MT500 Glove definitely lives up to the promise with a heavy stretch mesh back panel and padded sueded palm. Thoughtful features abound. In addition to the aforementioned protective panels, there's sticky silicon on the finger tips for better grip on the brake levers, a solid hook and loop wrist closure and a little microfiber panel for wiping away sweat.
Although the gloves performed very well, we found the fit a little small. They do stretch out after a bit of wear, but don't be afraid to go up a size when making your purchase.
Available at Amazon.
Ion Gat Gloves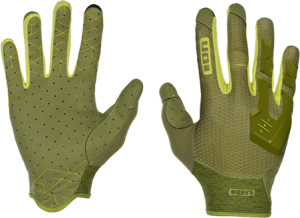 The guys at Ion Products are definitely outdoor fanatics focusing their offerings on two extreme sports, mountain biking, kite boarding and wind surfing. For the latter two sports, they have it all — everything from simple rash guards to substantial dry suits for extreme conditions — and everything in between. On the biking side, it's equally robust. Ion provides nearly everything needed to hit the trail or the park.
The Gat Glove is a little more on the minimal side than either the Endura or Dakine products. Although there's some extra fabric at critical areas near the thumb, there's really no palm padding. Feature-wise though, the Gat doesn't really skimp. There's a digital finger tip that makes accessing your smartphone easy. And Ion adds some protective panels across the back of the glove too.
Like the Endura MT500, the Gat runs small. I'd say even smaller than the MT500. We also didn't find that it stretched much with use. So you'll for sure want to size up.
You might have a problem finding Ion in the U.S. but they're definitely worth looking for.
Update: Dakine Sentinel Gloves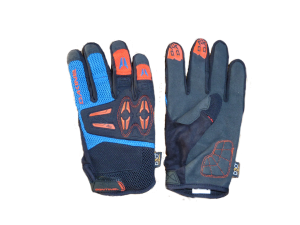 We originally remarked that Dakine packed the Sentinel Glove with a ton of features. It's very much on par with the Endura MT500 with knuckle guards and extra padding to protect the fingers.
On the palm, the company employs a synthetic suede. In addition, the Dakine adds an "L" shaped pad on the heel of the hand for extra comfort.
Other features include fleece thumb panels for wiping away sweat, rubberized finger tips for improved grip and a hook and loop closure for customizing the fit around the wrist.
We found the Sentinel's pretty bomb proof. After extended wear, they continue to be one of our favorite go-to gloves. They now show their age with some pulled seams and rough spots but they served us well.
Available at Amazon.
[ad name="PriceGrabber 660×198 Matrix"]
Thanks for reading another outdoor gear review from GearGuide. And thanks to Endura, Ion and Dakine for providing products for this review.