Time to think about upgrading your mountain pants. As the snow piles up around Lake Tahoe and elsewhere, no average pair will do. You need something with a little more heft, with reinforcements in key spots (to protect you when you put those dang chains on or muck through those thigh-high drifts) and a little extra give. A number of manufacturers delivers some high-test pants that work well in winter and fall, heavy weight fabrics, double and triple stitching, gussets and a whole lot more features set them apart from their run-of-the-mill counterparts. We tried a few from Duluth Trading, Kuhl and Mountain Khakis. Here's what we learned.
Duluth Trading Company Fire Hose Pant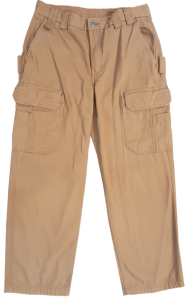 Our friends at Duluth Trading seem hell-bent on becoming the working man's J. Peterman. The clothing depicted on the company's website is hand drawn. The descriptions feature a touch of angry beaver. Yes, angry beaver. At least that's what we read about the Duluth Trading Fire Hose Pants. The company makes these out of some super-heavy 11.5 ounce cotton canvas (the same stuff that once wrapped firehouses, we understand). These guys weigh a ton and luckily shed water and stains making them good winter wear. The fit is solid with a bit of a high-rise waist, deep flap pockets on the rear and cargos on the side. There's all the other things you'd expect from a carpenter pant too. Tool loops, and pencil pockets included. If you're looking for a serious Carhartt alternative, these deliver. Find them at
Duluth Trading
.
Kuhl Rydr Pant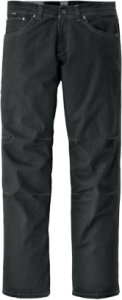 We dig the Rydr Pants from American-based Kuhl. Why? For a bunch of reasons. First, the styling. Pretty classic stuff with a straight-ahead five pocket approach, articulated knees and a gusseted crotch for comfort, and contrasting reinforced stitching for style points. Kuhl places reinforcements in critical spots on the pockets, cuffs and elsewhere to ensure the Rydr's can take a beating. Second, the fabrics. They also employ some darn-hard-wearing fabrics. Fabric weight is a dynamite 10.8 ounces, slightly less than that used by the Duluth Fire Hose, but still does the trick. It also boasts a tiny bit of Spandex for some extra give. And third, the fit. It's absolutely perfect, comfortable and current. No high-rise waists here. We liked them so much, we bought two pair, along with a pair of lighter weight Revolvrs for summer and Renegades for travel. Find them at
REI
.
Mountain Khaki Canyon Twill Pant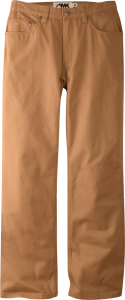 Khakis with jean styling. Hell yes, we say. The Mountain Khaki delivers exactly that in the Canyon Twill Pant. Still lighter than either the Duluth Fire Hose and the Kuhl Rydr, the Canyon Twill Pant delivers the hardwearing goods. Fabric weight comes in at 8.5 ounces, in case you were wondering. The styling is straight-up five-pocket jean. But the cut is a touch off for current styling. We found the waist a bit high and the hips too wide. Not as flattering as say the Kuhl pants. Legs aren't tapered either so you get more than enough fabric at your ankles. Everything is triple stitched and bar tacked for reliability. Find them at
Amazon
.
Thanks for reading another outdoor gear review from GearGuide.