First Impressions
Big swings in Norcal weather over the past couple of weeks. We got snow in the mountains on Wednesday. And — after a serious run of 100-degree days — the temps in my neighborhood dipped into the 40s this weekend. To the rescue, an Ortovox Melange Hoody that arrived just in time. It came in a color fittingly called crazy orange, the wildest and brightest of the six color options for this oober-cool Merino wool blend jacket.
Features
The chief feature of the Ortovox Melange Hoody is the Merino wool and synthetic fabric blend making up the body of the jacket. The exterior presents a dense, taught, and water-resistant feel. The interior delivers a soft fleecy cushion against the skin. We likey.
Specs
Weight: 1 lb 2 oz
Materials: 69% polyester, 27% Merino wool, 4% elastane
Ortovox positions the Melange Hoody as a second-layer garment. The company cuts the jacket close to the body, very athletic in feel. In keeping with that second-layer focus, the company also limits the features. There's a small hood, of course, meant to be worn under a helmet. Thumb holes at the cuff keep hands warm. And a bonded pocket in contrasting material graces the left chest. It dresses up the jacket nicely but is so small almost nothing fits in it. Definitely not a place to warehouse a smartphone.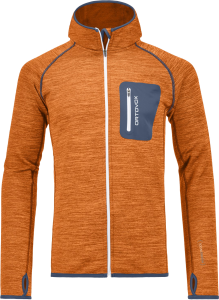 We wonder why Ortovox didn't make the Melange Hoody just a tiny bit more versatile. For a jacket that retails somewhere approaching $200, we'd suggest some zippered handwarmer pockets and a chest pocket that can accommodate more than a tissue. Adding those items would bring the Melange Hoody out of solely second-layer status and make it a legit outerwear option for cool fall and spring days.
Fit
Ortovox says the Melange Hoody comes in an ergonomic cut. We'd say it runs quite small. If you dig into the Ortovox website and find their sizing chart (translated into four languages but using centimeters instead of inches throughout) you'll notice that Ortovox typically runs quite small when compared to US sizing. An Ortovox mens medium feels like a US small. Definitely size up at least one notch or maybe even two.
Final Verdict
Definitely Euro oober-cool. Tight and athletically cut. And very functional. Warm, soft and comfortable. Wishing for some handwarmer pockets, but other than that, a definite second-layer winner. Find it at Amazon.
Thanks for reading another outdoor gear review from GearGuide. And thanks to Ortovox for providing a sample for this outdoor gear review.