Temps in Northern California dropped over the past week.32 degrees this morning, as a matter of fact. Not bone crushing cold, I know, but chilly enough to break out the down jacket. Some of our favorite bits of kit — like the original Sierra Designs Gnar — needed replacing after years of constant use. So we tried three options.
Our bargain pick consisted of the Columbia Flash Forward down jacket (which you can find at well under $100). In the middle, the Eddie Bauer MicroTherm StormDown Jacket. And finally at the top end hitting $250 MSRP, the Mountain Hardwear StretchDown Jacket.
Each down jacket takes a different approach to keeping you warm and dry. Here's our thoughts.
Columbia Flash Forward Down Jacket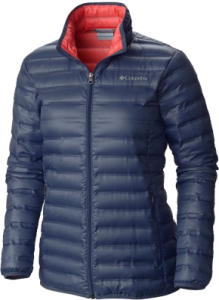 Columbia is one of those go-to brands for us, often offering substantial value for just a few bucks. We saw the Columbia Flash Forward Down Jacket as just such a product when doing our initial research. We found it at one of our favorite online discount retailers for a very compelling $59 and change. The fill power of the down insulation hit a respectable 650 number. Pretty darn good for that amount of coin. Enough pockets including two handwarmers and interior pouch pocket for things like your phone. No napoleon exterior pocket on the chest, but no big loss there.
All looked good on virtual paper so we placed our order. When the jacket arrived, unfortunately things changed. We found the amount of insulation in Columibia's Heat Seal bonded baffles negligible to nearly nonexistent. Of course, the shell and lining with even a small amount of insulation will provide some warmth, just not enough for us. The exterior shell gave off quite the sheen and just didn't have the quality feel we would like either. Construction and fit was solid however, but not good enough to keep the Columbia Flash Forward in our gear closet.
Find the Columbia Flash Forward Down Jacket at Sierra Trading Post. On sale for $59.
Eddie Bauer MicroTherm StormDown Jacket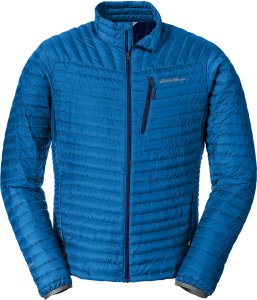 Over the last few years, Eddie Bauer products making a comeback (at least in our eyes). More technical offerings that hued more closely to the company's original vision re-joined the lineup. The IgniteLite Hybrid Jacket and the Downlight Stormdown Jacket come to mind.This season, we decided to give the Eddie Bauer MicroTherm StormDown version a try.
The Eddie Bauer MicroTherm StormDown comes in 10 different color combos, everything from bright blue to camo. Insulation is provided by 800 power fill down treated with a durable water repellent, hence the StormDown name. The sown-in baffles are narrow and filled with a sufficient amount of insulation.
Keep in mind this isn't your big and bulky puffy, rather a more athletic and trim-fitting option for lighter days. We found the fit frankly too trim, unfortunately. Especially around the midriff. But that's about the knock against this excellent jacket. Consider going up one size.
Details are well thought out on the Eddie Bauer MicroTherm StormDown. The shoulders include integrated stretch panels to aid movement. There's pockets aplenty including handwarmers, two interior pouches and exterior napoleon. Construction is top notch.
Find it at Amazon. About $119.
Mountain Hardwear StretchDown Jacket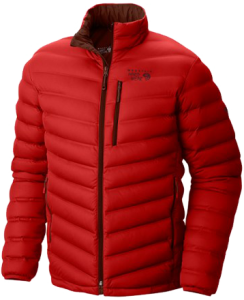 Of the three jackets we considered this season, the Mountain Hardwear StretchDown emerged as our favorite. The product delivered the right combination of quality construction, innovative fabrics and insulation that earned it a permanent spot in our gear closet. We only wish it came in some more interesting color combinations.
Here's the high points. As the name suggests, the Mountain Hardwear StretchDown employs a unique exterior fabric and seam-welding construction to give the jacket plenty of well, give. It slides on comfortably and moves with you. Of all three jackets, the fit was the best.
Other features include a very respectable 750 power fill down. There's plenty of it too, making the jacket a bit more versatile than the others in this test. Storage includes two handwarmers, an exterior napoleon pocket and two interior pouches. All in all, the Mountain Hardwear earns top scores for us.
Find it at REI for about $131 (on sale at this writing).
Thanks for reading another outdoor gear review from GearGuide.