First Impressions
Well, the effects of global warming continue to impact Northern California. One of the wettest winters I can remember now continues well into the spring. In other words, it's raining, has been for the past week. Today's daytime high won't hit 60 degrees. In fact, we don't expect sunny days until the end of the month.
All that means we'll need a decent rain jacket. Something to keep us dry on our morning runs and errands about town. Something light that we can layer over a shirt, quarter zip mid layer or fleece. Something we can shed easily and throw in a bag if the sun does decide to shine some rays on us. That's the ASICS Packable Jacket.
Features
The ASICS didn't waste any creative cycles naming its Packable Jacket. That name is pretty apt. It's a fairly functional albeit generic rain jacket. And it packs into a small pocket (on the lower rear). Kinda what we expected given that name, you know.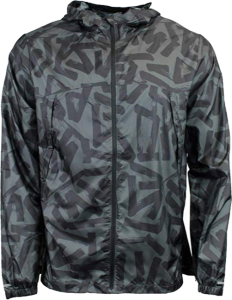 Beyond that, the ASICS Packable Jacket provides a few other expected features. There are two handwarmer pockets placed exactly where you'd want them. No zippers on those pockets unfortunately, a nod, I guess to keeping the jacket as inexpensive as possible. Two interior pockets grace the inside, again without zippers or any particular structure. They're big enough for a phone.
Specs
Weight: 4 ounces
Materials: 100% polyester
A nice hood with drawstrings, a drawstring waist and a few reflective accents complete the package.
Fit
The fit of the ASICS Packable Jacket like the jacket itself feels pretty generic. It runs true to size, maybe a bit larger than usual. I'd stick with your normal size for this guy.
Final Verdict
The ASICS Package Jacket presents a workmanlike rain jacket. Nothing fancy but it gets the job done. It's a bargain at around $40. Find it at Amazon.