First Impressions
Wenger S.A. is one of the two Swiss companies behind the Swiss Army Knife. Now part of its rival Victorinox, the company continues to manufacture watches and other products under its original brand name. One of those products is the Wenger GST Chrono. It's available in a blacked-out version or standard stainless with leather or metal link bands. Ours arrived from one of our favorite retailers Sierra Trading Post in the standard stainless and leather band version.
Features
The GST Chrono looks larger than its 41 millimeter case size would lead you to believe. It looks much bigger than the Casio Edifice which is equivalent in measurement (also reviewed as part of this project). It's relatively light weight at 86 grams.
On the watch face are three dials in addition to the traditional analog watch face. Working in a clockwise direction, the first of these dials is the second hand. The second tracks hours – up to 12 – when in stopwatch operation. And finally, there's the stopwatch minute hand. It tracks 30 minutes at a time. There's a date window as well. And the rotating bezel can be used to track elapsed time.
On the case, you'll find two buttons in addition to the standard crown. Crown operation is pretty standard stuff. Pull out one stop to adjust date. Two stops for time adjustment. The two buttons operate the stopwatch. Press the top button to start and end the stopwatch. Press the bottom button to view splits and operate the flyback to zero. Button press is a solid click at initial start and at stop/split. Button placement made them easy to press.
Specs
Construction: Stainless steel, sapphire crystal, leather band
Movement: Swiss quartz
Diameter: 42mm
Weight: 86g
Water resistance: 10BAR or 100M
The standard watch face hands and numeral markers are luminescent. All are easy to see after modest exposure to sunlight.
The Wenger GST is water resistant up to 10 BAR or 100 meters. But as you probably know, water resistance is not a substitute for water proofing. In other words, don't go pressing those chronograph buttons when submerged.
Fit
The GST is extremely comfortable although it tends to slide around the wrist somewhat. The leather band has contrasting stitching. Adjustment holes are about seven millimeters apart.
Final Verdict
Of the three watches we reviewed for this project, the Wenger GST might just be our favorite. It's stylish without being fussy. It's capable of handling simple timing exercises as well as more complex split times unlike other watches in the test including the Casio Edifice Black Label and Dakota Stainless Steel Chronograph. And it has a top-notch Swiss movement, sapphire crystal and stainless steel case. The Wenger GST is also the most expensive of the bunch with a nearly $600 price tag. But if you shop around – at places like Sierra Trading Post – you can find this watch and others for prices under $200.
Thanks for reading another outdoor gear review from GearGuide.
Final Verdict | Wenger GST Chrono Review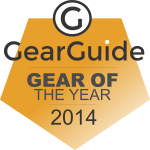 Stylish, rugged and with a top notch Swiss movement.