It's that time of year again – when we at GearGuide pause and reflect on the last 12 months and the great gear we had the privilege to try and review. As always, a handful of products stood out from the rest. Items that just stuck with us, received continued use and rose to the top of the heap. Below is that list in alphabetical order, from apparel and eyewear, packs and vests, pumps and timepieces.
Bolle Sixth Sense Eyewear
Can you say blades? Holy Oleo Batman, that's the Bolle Sixth Sense. These aggressive wrap-around shades come in a variety of colors and lens tints including a bright red and fire colored version. The product covers a wide field of view. So wide, in fact, that the lens borders are almost out of your field of view. If that's still not enough for you, Bolle includes a set of side wings to further extend the frame and protect from side glare and air infiltration. Find them at Bike Nashbar.
Chrome Cobra Hoodie
Why so impressed, you ask? For several reasons. First, the product looks awesome. It's a deep black color with a subtle red Chrome logo on the lower left side. Second, it's heavy. Our men's large sample weighed it at one pound, four ounces. Absolutely great heft and feel. Third, the jacket boasts numerous, very well-thought-out details. Four pockets are located around the jacket including a large zippered cycling pocket on the rear, two zippered handwarmers and a zippered key stash on the left wrist. You can't go wrong with this guy. Find it at Chrome.
Lowepro Photo Hatchback Camera Pack
The LowePro Photo Hatchback 16L AW delivers what you need in a CSC camera bag. Not too bulky but plenty of carrying capacity, room enough for one body, multiple lenses, a tablet and more. We liked its streamlined profile. The camera and other photographic gear is stored in a small padded compartment accessible only from the back of the pack. That container is removable, configurable and has room for one camera body and attached lens, along with the potential of two additional lenses and other accessories. Find it at Amazon.
Serfas FMP-969 Floor Pump
A beautiful piece of metal for sure, with an almost iridescent sheen, taught lines and bold curves. Easily the most gorgeous product of its type. The FMP-969 is machined from aluminum. The base looks stamped but sturdy. The main tube is extruded and the handle, hose clamps and other parts are machined from single blocks of metal by highly sophisticated computer numerically controlled systems that deliver high degrees of precision. The result is a rugged, yet relatively light weight product capable of handling just about any inflation task — from your road bike to mountain. Find it at REI.
Umpqua Swiftwater Tech Vest
I don't know what Umpqua did in the design of their new vests and packs. Whatever they did, they did it right. We tried a bunch this past year. And the product that stood out was the Swiftwater Tech Vest. Something about it delivers immediate appeal. That seems to be the case no matter who I show it to. They immediately gravitate to the look and the thoughtful configuration that goes far beyond what you expect from a new market entry. Find it at Fishwest.
Wenger GST Chronograph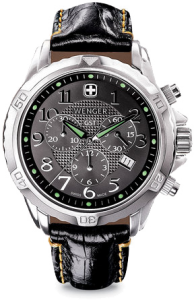 It's stylish without being fussy. It's capable of handling simple timing exercises as well as more complex split times unlike other watches. It's available in a blacked-out version or standard stainless with leather or metal link bands. And it has a top-notch Swiss movement, sapphire crystal and stainless steel case. That's what makes the Wenger GST a favorite. Find it at The Watch Company.
Thanks for reading another gear review from GearGuide. Thanks for your continued support. Happy holidays!