Bluetooth seems to be everywhere these days. In everything from bike lights to portable speakers, headphones to in-car audio. We've been playing around with Bluetooth earbuds since 2013 when we could see improvements that made them more practical for running and other outdoor pursuits. Since then, manufacturers have continued to improve their products, removing bulk, improving battery life and audio quality. We tried to new offerings recently. The Jabra Sport Pace and JLabs Epic earbuds. Both are more streamlined and capable products than those we tried previously. Here's the results.
Jabra Sport Pace Bluetooth Earbuds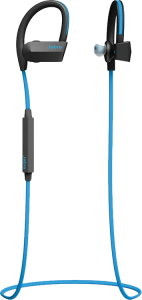 Back in 2013, we put the Jabra Sport Wireless+ earbuds to the test. They were a little bulky and cumbersome to wear with a large chunk of componentry located behind the ear. Those products worked reasonably well but sound quality and bulk kept us from making them part of our daily workouts. The new Jabra Sport Pace improve on the 2013 vintage with a more streamlined design. Jabra was able to reduce the size of the battery and other components, and shift them in front of the earbud itself. This makes the Sport Pace more compact and balanced. Jabra also reduced the weight of the Sport Pace to .81 ounces. The earbud itself is an isolating in-ear style. And Jabra provides three different size gels to customize the fit.
We found the new Jabra Sport Pace earbuds to be quite comfortable and easy to adjust. The sound quality was solid, not necessarily audiophile levels, but more than adequate for workout purposes. Where the Jabra Sport Pace suffers is definitely range and stability of connection. We found it quite easy to disconnect the earbuds from the audio source when running. With the audio source in a short pocket, forget it. You'll be experiencing audio drop constantly. In a jacket pocket things improved. If you handhold or use an armband (which we don't), you'll probably be fine.
Jabra provides an integrated applications suite for the Sport Pace. This includes no fewer than three Android and iPhone apps that connect the phone, track workouts and give you customized music. They're easy to install and provide a range of metrics. Unlike Fitbits and other fitness tracking devices, the Jabra suite requires that you run with your phone which might not been your desired approach. Still a nice value add regardless. Available at Dick's Sporting Goods and Target.
JLab Epic Earbuds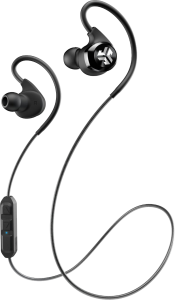 The JLabs Epic earbuds deliver an even more compact profile than the Jabra Sport Pace. The battery and other componentry are only slightly larger than the bud itself. Over the ear, the JLab Epics use something called Memory Wire to customize the fit. JLabs in-ear bud can be further tailored with the three sets of gels provided by JLab. Weight is just over half an ounce. Also in the box are smartphone case with belt clip, a USB cable and coupon for the Rock My Run app.
We found the fit of the JLab Epics problematic. Despite the Memory Wire and gel choices we could only ever get one ear to fit perfectly (our left). The right just never quite set well. The other thing we noticed with the Epics is that they kept us from wearing sunglasses. That was surprising given the compactness of the earbud. But the Memory Wire just seemed to get in the way of our shades.
The JLab Epics delivered superior battery life and sound quality. The company claims 10 hours on a single charge. We couldn't validate that but did get numerous workouts in without needing to connect the Epics to power. The Rock My Run app, like a similar offering from Jabra, requires that the phone accompany you on your runs. Unlike Jabra, this app only provides music for pacing, and not fitness tracking. Find them at Amazon.
Are these products perfect? Unfortunately not. There's still issues given the nature of Bluetooth's limited range and throughput. But if eliminating wires is a priority, these new offerings will take you a long way.
[ad name="PriceGrabber 660×198 Matrix"]
Thanks for reading another outdoor gear review from GearGuide. And thanks to Jabra and JLabs for providing products for this review.