Hats, or caps, whichever you prefer. At GearGuide, they represent an essential part of running apparel. Day or night we wear them to keep perspiration off our faces and out of the eyes. For quite some time, we rotated a set of Brooks mesh caps through the daily grind. Wear them for a few days, let them dry between runs, and wash when they got too nasty. They held up well. But the time has come to put those old friends out to pasture at last. What's the latest in fashionable running head wear? Here's three options from Adidas, Nike and TrailHeads.
Adidas Adizero II Cap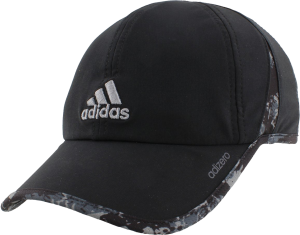 We like the look of Adidas new Adizero II cap. It boasts a low crown, the nicely integrated brim. The Adizero cap comes in about 20 different color combinations. We opted for the understated black with black "energy print" accents. Just a little spice for this pretty basic cap. Of course you could opt for a much more vibrant yellow or green known in Adidas color pantheon as "slime."
Construction of the Adidas Adizero II is pretty straightforward. It's made of six panels of Adidas proprietary Climacool fabric which is a combination of polyester and spandex for stretch. There's a touch of mesh at the temples for ventilation and cooling. Hook and loop forms the rear closure. The cap fits well and held up nicely.
Available at Amazon. Less than $20.
Nike Featherlight Hat (Version 2.0)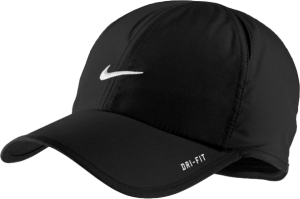 Very similar to the Adidas Adizero II, the Nike Featherlight Hat (Version 2.0) comes in a half dozen colors, basic black to "hyper pink." As usual, we went with the color that goes with every outfit. The Featherlight Hat is made from 100% Polyester with small mesh vents near the top of four panels for cooling. Nike preforms the brim and overall fit is quick good, thanks to the hook and loop closure.
The Nike Featherlight Hat also boast six-panel construction and a low crown. Nike lines the interior of the hat with a soft brushed material so moisture management is solid.
Available at Amazon. About $25.
TrailHeads Race Day Running Cap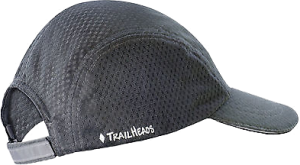 The TrailHeads Race Day Running Cap comes very close to our old stalwarts from Brooks. The construction is 100 percent mesh, just like the Brooks' caps. Instead of a more traditional six-panel ball cap construction, the TrailHeads come in a three-panel design. The crown sits low and the bill comes pre-formed.
Where the TrailHeads veer slightly off the Brooks model is in the fit. The Race Day Running Cap tends to run a bit large. The bill too is quite stiff requiring some additional sculpting to get the fit just right. Once that's done, however, you're good to go.
Available at Amazon. Around $18.
Thanks for reading another outdoor gear review from GearGuide.