The quest for the perfect camera bag continues. As you probably are aware — if you read any of our previous camera gear reviews — we shoot compact system cameras (aka mirrorless) because these devices pack a lot into a small package.
For us at GearGuide, Panasonic presents the best combination features, functions and ease of use. The mid-range G85 serves as the backbone of our system. We like the five axis stabilization (when combined with Panasonic lenses), no anti-aliasing filter for better sharpness and improved auto focus over previous models. It's still not the perfect sports camera but it also doesn't cost $5000 (or more) so we'll live with the compromises for now.
Since we hit the road more these days, the backpacks we use need to be versatile, capable of handling not just camera gear but tablets and laptops. They need to be compact, able to fit under an airline seat or easily in an overhead bin. And they need sufficient storage for body, at least two lenses, flash diffusers, battery chargers and the like.
These two backpacks from Mindshift and ThinkTank deliver.
Mindshift Sidepath Backpack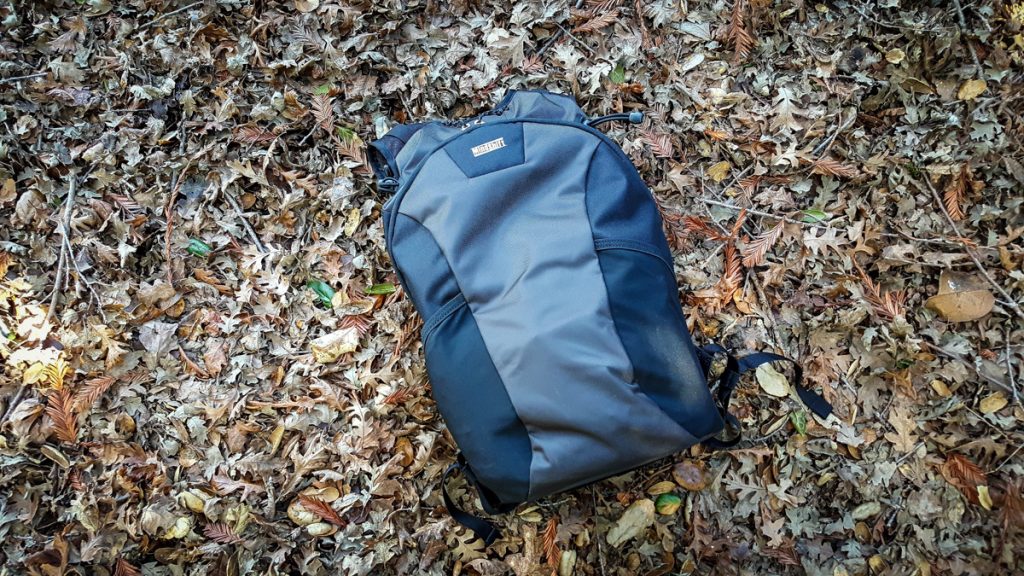 Mindshift hit the market with an innovative and integrated backpack/waistpack combo. The company designed it to allow photographers to easily get to their gear without removing the backpack itself — just shift the gear from back to front. You get the idea and the origin of the name. That approach remains in many of Mindshift's products. But there are others, like the Sidepath, that take a more traditional approach.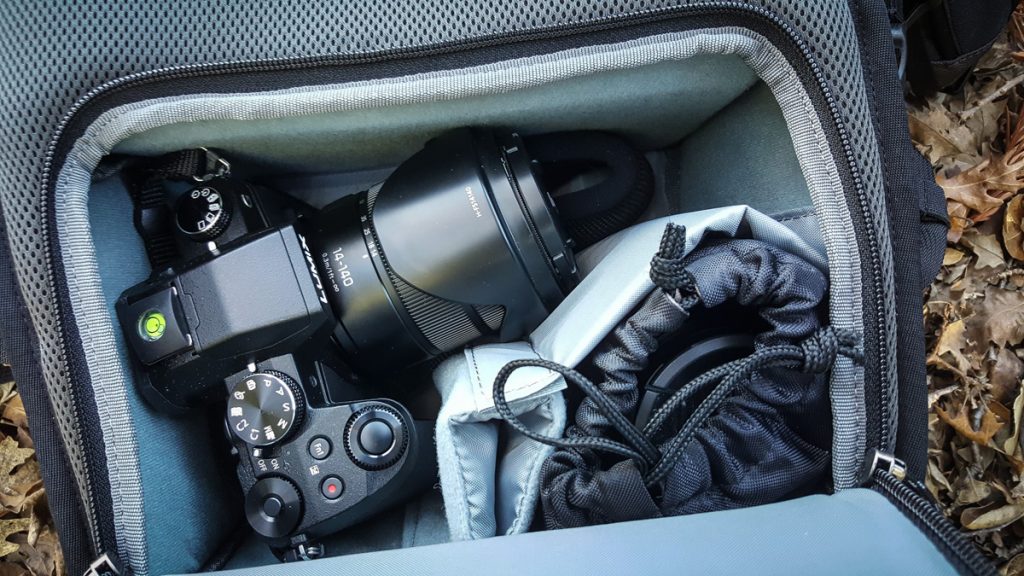 The Mindshift Sidepath is a small and lightweight affair, just under two pounds empty. The equipment hatch sits at the lower rear of the pack. It fits a compact body and two lenses easily. It's padded and includes dividers that can be configured to meet your specific needs and camera configuration. Unlike some other cameras, this compartment is not removeable if you want to day a day hike without gear.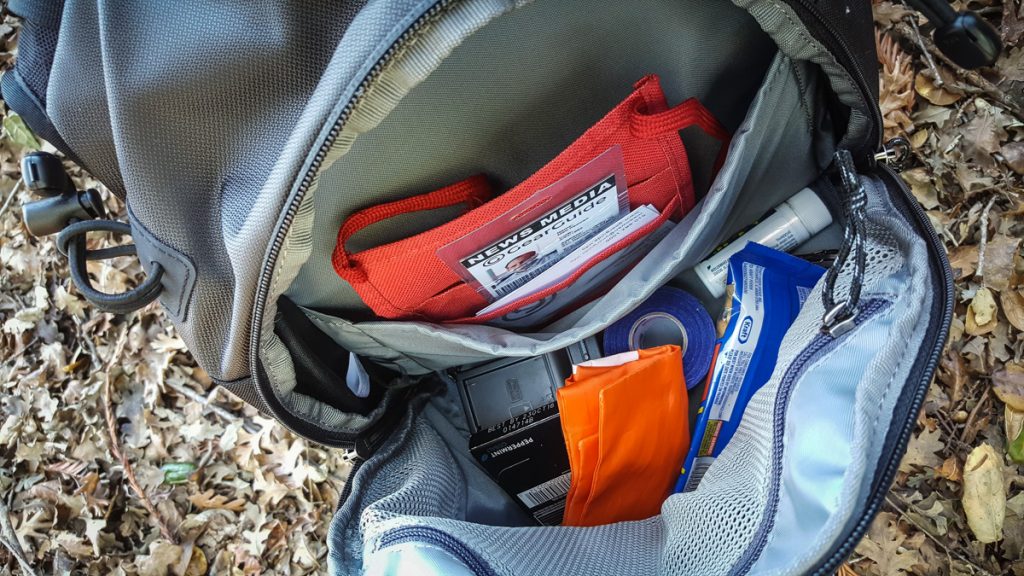 Above the camera section, Mindshift places a zippered storage compartment. It will handle food, a light jacket, accessories like chargers, external flashes, etc. There are two pockets within this area. One can hold either a small hydration bladder or a tablet. The other zippered mesh pocket presents an ideal place from extra SD cards, lens cleaners and the like. On the exterior of the pack, MIndshift included two elastic tie downs and stretch mesh pocket for holding water bottles, a small tripod or monopod. The company also includes a separate rain cover.
The Mindshift Sidepath wears comfortably, includes a welcome sternum strap to keep things from falling off your shoulders and an airmesh back panel to keep you cool Find the Mindshift Sidepath on Amazon. MSRP $99.
ThinkTank Shape Shifter V2.0 Backpack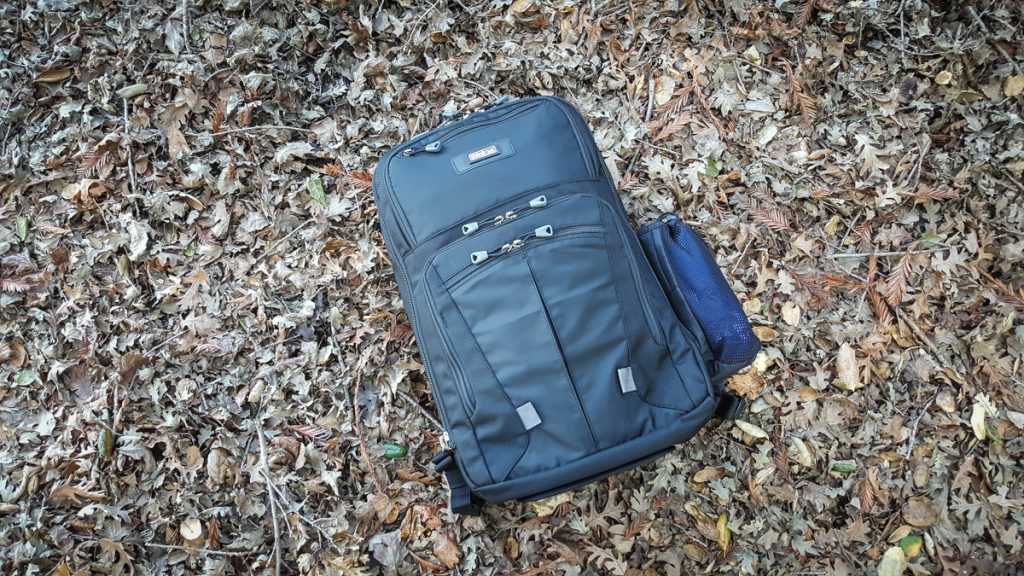 ThinkTank created one of the most versatile camera backpacks on the market with the Shape Shifter 15 V2.0. And it might just be the best camera backpack around in our humble opinion. Why? Because as the name suggests it can play almost any position. Need a slim daypack for a hike? The Shape Shifter can do it. Just pull a few pieces out and pull a zipper or two and you get a lightweight hiker. Need something that'll take you across country with multiple lenses, a tablet, laptop and more? The Shape Shifter can do that too. Just fill up the interior and go. Nicely done, ThinkTank.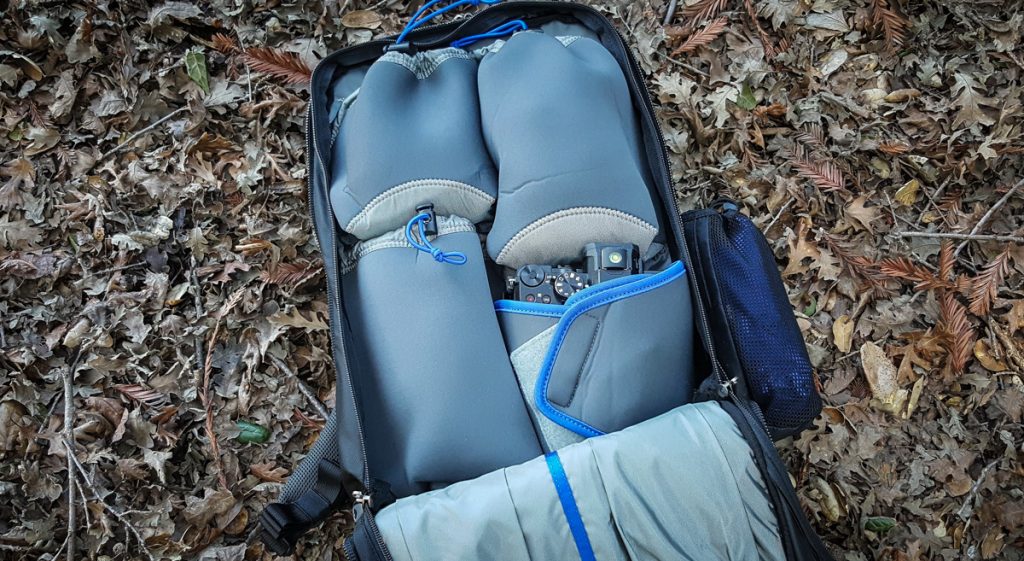 The Shape Shifter comes in a couple different versions. One fits a 17-inch laptop, the other a 15-inch. You can buy it completely outfitted with storage pouches. Or without. Our sample was the 15-inch version with all the fixings. The bag includes so many options, ThinkTank provides a detailed set of instructions describing the components, how to assemble and disassemble the various piece parts to create a completely tailored solution for the job at hand.
The Shape Shifter 15 V2.0 holds four large padded pouches for lenses and camera bodies on the interior. It holds several large zooms and smaller primes. There's a dedicated wrap for the body of your choice. Two additional elastic pockets and zippered mesh complete the main compartment.
Think Tank builds four additional zippered, flat pockets onto the Shape Shifter's exterior. These are good for holding batteries, lens cleaners, SD cards and the like. Numerous attach points provide places to lash a tripod or monopod. A mesh water bottle pocket (detachable) and rain cover are also included.
On the rear of the pack, Think Tank includes a sleeve for both a laptop and tablet, allowing you to carry both with ease. Shoulder straps are very comfortable. A sternum strap keeps everything in place. And if necessary, you can tighten things at your waist with the included (and removable) belt. Luggage pass through also cleverly built into the bag to complete the package.
Our only complaint is the weight. At nearly four pounds, the Shape Shifter is a hefty companion. But given the versatility, we think it's worth it.
Available at Amazon for around $249.
Thanks for reading another outdoor gear review from GearGuide. And thanks to Mindshift and ThinkTank for providing products for this review.