Running remains one of our preferred ways to get outside in the winter. Despite bad knees and cold temps we still hit the road at least three times a week. More if the weather and schedules cooperate.
Most often, we venture into the elements in a pair of running pants. Unlike some, we never became fans of the "men in tights" phenomenon. None of that skin-tight nonsense for us. We prefer our running garb a bit looser. Tapered leg, sure. But thigh-hugging spandex is a no-no around GearGuide HQ (for the guys at least).
Here are three of the best running pants we found this year. Check them out. You won't be disappointed.
Adidas Response Astro Pant

The Adidas Astro Pant entered our gear kit several years ago. And those originals won our hearts for their light weight, solid construction and a fantastic zippered rear pocket. This last item is frequently omitted by other manufacturers. Shame, shame on those guys. If you're a traveling runner like me, you need a spot to keep your hotel room key and some cash to buy that all-important cup of coffee after your morning dash. On their latest version, Adidas relocated that zippered pocket behind one of the side seam handwarmers. The legs still taper to zippered ankle. Inseam hits right above the ankle. Fabric is a stretch 83% recycled polyester/17% elasthane. Between $50 and $60. Find them at
Amazon
.
Nike Phenom Elite Hybrid Pant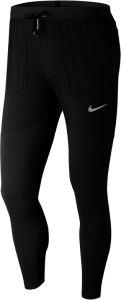 Nike pulls it all together in the Phenom Elite Hybrid pant. They fit nearly perfectly. Not too tight at the waist, with an easy to adjust drawstring. Roomy at the thigh and nicely tapered at the ankle. Length is great as well. We like the three zippered pockets, two handwarmers at the hip and another small pocket at the rear for room keys and ID when you're traveling. Nike makes the Phenom Elite Hybrid pant from 92% polyester/8% spandex for some nice stretch and resilience. Ankles close with zippers as well. Find the Nike Phenom Elite Hybrid Pant at
Amazon
. Around $80.
Saucony Boston Pant

The Saucony Boston is one of the stalwarts of our cold-weather running kit. We picked up a new version recently and they're just as good if not better than past versions. The fit seems improved, a touch more room around the thigh, a bit more taper at the ankle Saucony still makes them in a knit fabric that feels soft and warm the minute you put it on. This fabric seems to resist odor too, which is amazing considering that virtually every other pant on the market gets funky the minute you're done running.. Inseam of 29.5 inches. Ankles finish with a zipper. Two side-seam zippered pockets and a sewn-in crease finish out the classic look of this running pant. Find them at
Amazon
for $65.
Thanks for reading another outdoor gear review from GearGuide.