Updated January 9, 2016
Northern California is socked in under an El Nino spell right now. And that means more slick roads and more darkness. And more need for safety in the form of bike lights. If you plan to ride in the early morning or evening, you need them.
We're continuing to update our review of these products. There's some great new innovations from a range of manufacturers. LEDs abound. There are mounting options aplenty. Recharge can be had from any USB-equipped device. And there's even integrated Bluetooth on some.
Revised as of January 9, here's a refresh with some new products from Australian manufacturer Knog, along with excellent offerings from Blackburn, Niterider and Ruggedtec.
Blackburn Central 700 Headlight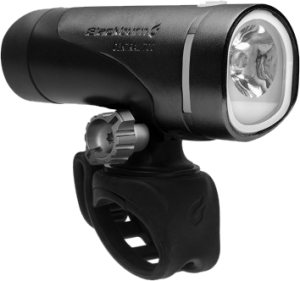 This bad boy delivers 700 lumens of forward-facing light. We found the Blackburn Central 700's beam impressively bright, able to easily illuminate the area immediately in front as well as cast enough light sufficiently ahead to see 25 or more yards away.

The included universal mount fit tightly around the handlebars of our ride. However we especially liked using the Blackburn Central 700 mounted on top of our helmet. We used the same universal mount to attach the light through one of our helmet's central vents. It makes the helmet feel top heavy, but worth it, as the beam tracks your head movements. We could see around corners and even spot a deer as it bounded alongside us in the dark. The Blackburn Central 700 has an MSRP of just under $100 but we've seen them for less than $70. Find them at
Amazon
.
Knog Blinder ARC Headlight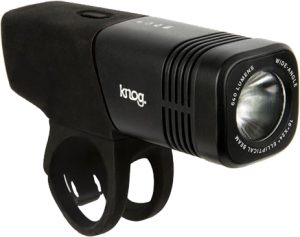 Knog is an Australian manufacturer that's delivering some very impressive, robust and innovative products. The Blinder ARC 640 sits at the top of their line and provides a wide 640 lumen beam for use on your handlebars or mounted on your helment. Although the Blackburn Central 700 has a slight edge brightness, we liked the Knog ARC 640's wider elliptical beam (the Blackburn has a mostly circular throw).
We also like the way Knog is building the Bluetooth charging connections into their devices. Instead of requiring a cable connection, all the Knog products we tested have a small tab that inserts directly into a charger. Pretty slick. Although given the Knog ARC 640's weight and shape, it's a little difficult to use on this one particular light (Knog does include a cable making it easier to charge). Knog also includes a helmet mount kit, an extra elastic mounting band, hook and loop straps, foam tape and a small hex key. MSRP is $129. Available on Amazon.
Niterider Sentinel 40 Tail Light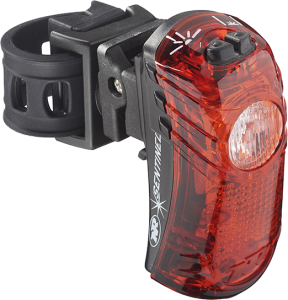 We love this innovative tail light. The Niterider Sentinel 40 is of course 40 lumens strong. It connects easily to the rear seat post with a universal rubber mount. It also has four light modes, two steady and two flashing. But the coolest feature of the Niterider Sentinel 40 is the laser lanes it projects to give drivers a visible safe distance indicator. Absolutely awesome.

The Niterider Sentinel recharges via a standard USB connector. MSRP is just under $50. Find them at
Amazon
.
Blackburn 2'Fer Multipurpose Lights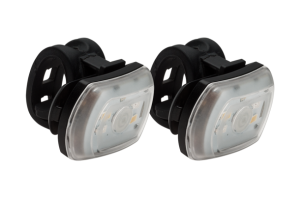 The Blackburn 2'Fer lights are definitely multipurpose. We used them as tail lights and headlights. Depending on how many times you punch the centrally located button, you can get one of a multitude of modes. Press the button initially and the Blackburn 2'Fers will project 60 lumens of forward-facing steady white light. Press again for flashing. Again for 20 lumens of steady red. Once again for flashing red. The 2'Fers are small, just under two inches at their widest. And they'll mount to just about anything thanks to the integrated clip and universal mounting straps. MSRP is around $45. Find them at Amazon.
Knog Blinder MOB Grid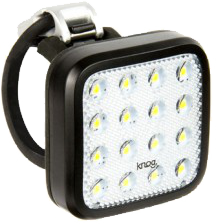 Now this is one cool light. It's about 1.5x the size of the aforementioned Blackburn 2'Fers, and put out about 1.3x the light (80 lumens). Not bad for a small package. In that package, however, is 16 separate LEDs and what Knog does with them is what makes this light so cool. In addition to the standard high and low beams, there's a "fancy" flashing mode in which Knog programs those 16 LEDs to dance in a very attention getting pattern. Fantastic. Available in either front or rear facing modes. Get them at Amazon. About $45.
RuggedTec Flashbang Headlight and Bluetooth Speaker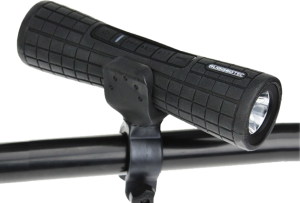 We wrote about the RuggedTec Flashbang a few months ago. It incorporates both a flashlight and 4 ohm speaker. There's no official brightness rating for the flashlight. Our best estimate puts it around 100 lumens or about mid-scale for a headlamp and at the lower end for bike lights. Not bad and definitely something that can get you out of a pinch. The speaker is small but sound reproduction was pretty reasonable in our tests. MSRP is $39. Find them at Amazon.
Thanks for reading another outdoor gear review from GearGuide. And thanks to Blackburn, Knog, Niterider and Ruggedtec for providing products for this review.