We love Daylight Savings Time around GearGuide. Longer days and warmer temps mean early evening runs and rides. As we cruise into spring, we tried a set of running shorts that fit our style. These days, we opt mostly for those falling in the five to seven inch range and these shorts hit those marks, including built-in liners or compression and pockets for storing keys and other items before, during and after we hit the road or trail. Check them out for yourself and let us know what you think.
New Balance Impact Running Short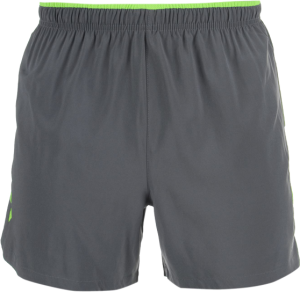 The New Balance Impact short falls at five inches. We really like the plushness of these shorts. Instead of feeling lightweight and paper thin, these guys deliver a little more heft. Construction is 86% polyester/14% spandex.
The internal liner is of the compression variety and provides plenty of support without being too tight. Other standard features include a drawstring waist band (and a small interior key pocket), inset mesh panels for breath-ability and a small zippered pocket large enough for keys, an ID or credit card.
Available at Amazon. Between $25 and $45.
Nike Wildhorse Running Short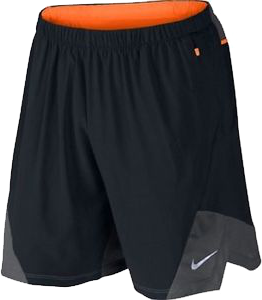 We ran across these at a local retailer recently and couldn't say no to the Wildhorse mens running shorts. Bright orange details and plenty of pockets make them a great addition to any running apparel closet. They're made from Nike's Dri-FIT fabric (88% polyester and 12% spandex). And they fall at seven inches for the most conservative, least revealing cut of all the shorts in this roundup.
Speaking of pockets and mesh ventilation panels, the Nike Wildhorse short has aplenty. These dudes boast five substantial exterior pockets — more than any other short in the test — along with a cleverly concealed interior key pocket. They include two zippered hand pockets, two deep storage pockets at the rear hip and a final stretch mesh pocket on the rear waistband. Other standard features include the drawstring, breathable liner (of the brief variety) and mesh panels all around for cooling.
Available at Amazon. About $70.
REI Fleet Running Short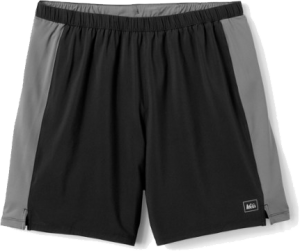 The REI Fleet short is part of the company's in-house product line. And like most the the REI-branded apparel we've tried, we were impressed with the Fleet Short. The cut falls at a modest six inches and the feel of the fabric is first class. Construction is 86% polyester/14% spandex.
The REI Fleet short doesn't overwhelm with features, but the company includes a few worth mentioning. There is, of course, the standard drawstring waistband and interior key pocket. On the exterior, though, REI places two rather-good-sized storage pockets. One at the left hip works for storing energy gels and the like. And the one on the back is zippered and sweat resistant, a great place to store some cash, just in case. The liner on our sample was of the brief variety, but newer models have compression shorts.
Available at REI. Around $30 on sale.
Thanks for reading another outdoor gear review from GearGuide.