Periodically, you need to switch it up. I'm referring specifically to the look of that ubiquitous modern work tool, the laptop. Face it, those products remain pretty boring. Silver or black. Black or silver. Manufacturers don't step out much when it comes to color. When they do, it can be disastrous. I once purchased a high-end model with a wonderful 4K screen. Unfortunately, that screen was surrounded by a strange brownish-gray case that looked pretty crappy (if you know what I mean).
What do you do when it's time to make a change? You can of course buy a new laptop. But at a grand or more, that's hardly practical. Alternatively, you can do what we do, buy a new laptop skin. These vinyl decals not only change the look but also protect your machine from bumps and bruises. We purchased a range of them over the years with good results. A number of mainstream manufacturers make them for more popular laptops and Chromebooks. You can also turn to eBay where a series of Chinese companies provide them for almost every model.
Here's a few we like.
Mighty Skin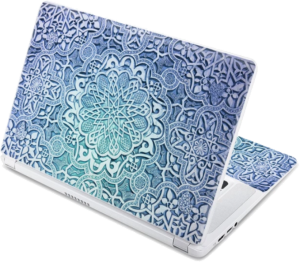 Mighty Skin makes skins for almost everything. Game consoles, vape pens, cell phones, mice, water bottles, headphones and of course laptops and Chromebooks. They cover Acer, Alienware, Apple, Dell, HP, Lenovo, Samsung are a few of the companies with compatible Mighty Skin offerings for their computers.
Mighty Skin products use automotive-grade adhesive vinyl. We found that quality vinyl to be heavier duty than that used by other companies. We also found the skins from Mighty Skins to be easier to apply. We purchased one for an Acer 14-inch Chromebook in the Carved Blue design. The company has a huge variety of great design and color options. The adhesive allowed for easy repositioning of the skin when we made that inevitable mistake in alignment. In addition to the lid sticker, Mighty Skin provides matching decals for the interior palm rest around the trackpad. Again, very easy to apply.
Find Mighty Skins on Amazon. Or on mightyskins.com. About $20.
Decalrus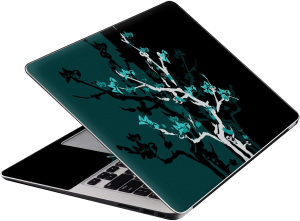 Decalrus covers many of the same manufacturers and systems as Mighty Skin. They also boast a wide variety of designs. Decalrus differentiates their offering by creating skins that cover 100 percent of the keyboard deck as well as covering the screen bezel. The full keyboard coverage is especially nice in our opinion.
We chose a textured option for a Dell 13-inch laptop. The skin fit perfectly on the lid. Repositioning was easy enough. Installing on the keyboard deck is a bit more difficult given the narrow bits. You may need some heat to help move things into position.
Decalrus seems to be exclusively available on Amazon. About $26 plus shipping (Decalrus doesn't seem to be on Prime)
DecalGirl/h2>


DecalGirl makes all their products in the United States. In a little town in Delaware as a matter of fact. The company covers all kinds of products including laptops, phones, drones and more. We purchased a number of their skins for Acer Chromebooks. Fit and quality has always been great.
DecalGirl skins cover the lid and palm rest area of the keyboard deck. Installation is similar to that of Mighty Skins, easy and straightforward. There isn't the intricacy of the full-keyboard deck as with Decalrus.
DecalGirl products are on their website. They often have sales running. About $20.
KH Skin on eBay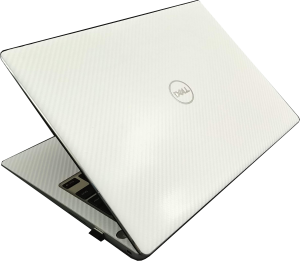 A number of Asian manufacturers offer their skins on eBay. We purchased a number of them also for Dell computers. The selection of designs is typically pretty limited to brushed and carbon fiber textures and the like.
What these solutions lack in design variety, they certainly make up in laptop coverage. Instead of just covering the lid and palm rest, many of these skins cover the full keyboard deck, the screen bezel and the bottom cover — more than any other provider. If you want that kind of full-computer protection, the eBay providers are really your only option.
Installation for the products we chose — the latest being a white carbon fiber — can be challenging. This is especially true when dealing with the keyboard deck. We found the various bits to require quite a bit of finesse and a heat gun or hair dryer to help smooth out the wrinkles around the power buttons and other upper sections of the deck. Once in place however the look is very slick.
Find them on eBay. And expect a long time in shipping from China. Around $20.
Let us know what you think by leaving a comment. Thanks for reading another outdoor gear review from GearGuide.