Nice little late fall storm lingering over Northern California and a few resorts reporting a dusting. Most forecasters predict a La Nina pattern this season with average snowfall in Lake Tahoe, and some above average dumps in places like Oregon, Washington and Montana. Say hello, Big Sky!
Time to get tuned up for the season wherever you plan to shred. And, as usual, there's a bunch of new gear to consider. We checked out a couple of pairs of new goggles from the guys at Native recently and — also as usual — we came away impressed. Here's the rundown.
Native Upslope Goggle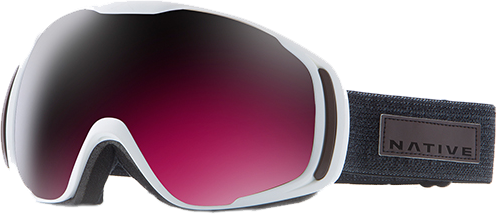 Native eschewed the polarization their famous for in their sunglasses for a more straightforward approach for most of their goggles. But that doesn't mean the new Native goggle line is devoid of technology. The Upslope includes lenses that are Snowtuned, according to the company. That's Native marketing speak for antifog and other coatings that repel water and oils, and special light filtration. They worked pretty good in our tests.
In addition, Native dials the fit for specific facial sizes. Native specs the Upslope for a medium-sized nogin and again, things worked pretty well for us. The Upslope fits comfortably thanks to a plush notched foam padding.
Our sample came in Hesher White with a mirrored bronze lens designed for bright days. The gray almost wool-like band includes grippy bits to hang onto your helmet and plenty of ventilation.
Available at REI. About $200.
Native Tank 7 Goggle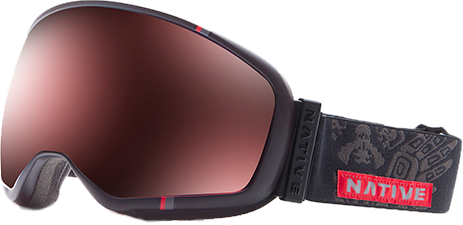 The Native Tank 7 goggle presents an even more fully featured package than the Upslope. In addition to being Snowtuned with all the aforementioned benefits, our Native Tank 7 sample came with the React Rose lens. This photochromatic lens adjusts to available light on the slopes making it unnecessary to change lenses as you move from morning into blazing afternoon sun and into early evening. We're big fans of this approach.
In addition to the advanced lens, the Native Tank 7 also includes the company's Switch Outrigger band. Slide the locking mechanism backwards to reveal a rotating hinge. Spin the band around and you have a whole new look. Our T-Bird model band goes from a winged motif to a straight-ahead reflective stripe when you need it.
Available at Moosejaw. About $178.
All Native googles some with the company's signature lifetime guarantee so your investment is protected no matter what. Having availed ourselves of this option in the past, I must say it's nice to see Native continuing to stand by its products and customers.
Thanks for reading another outdoor gear review from GearGuide. And thanks to Native for providing samples for this review.