Man, we love the zip running shirt around here. Half-zip, quarter-zip, either one works for us. Over a t-shirt, under a jacket, they provide an amazingly versatile option for getting outdoors, hitting the trails or just banging around town. They come in a variety of fabrics — from lightweight meshes to midweight softshells to heavy duty near-neoprene for the ultimate in weatherproofing. The three in this test come in the lighter weight category and served us well in the late fall as an outer layer. With these big storms hitting California today, we'll see how far they take us in the dead of winter. My sense is they'll hold up well as a mid-layer too. Check them out.
Asics Men's Thermopolis Lightweight Running 1/2 Zip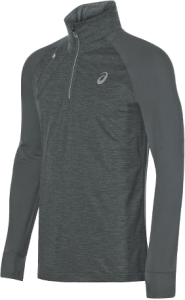 We put the original
Asics Men's Thermopolis LT Running 1/2 Zip
top to the test way back in 2013. It delivered a super-comfortable fit and great climate control. This new lightweight version uses a slightly different fabric, more mesh and less stretch than its predecessor. But that doesn't mean we like it any less. If anything, this new version cuts a more striking pose. Our sample was a dark grey-black with contrasting lime accents. Fit remains trim so we found ourselves going up a size. No media pocket, but hey, with all the new wearable tech coming out, you don't need it.
About $55. Find them at
Amazon
.
Running Cold Weather 1/4 Zip – C9 Champion®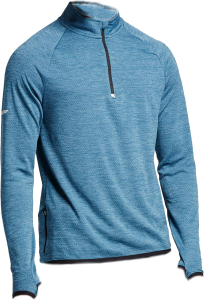 IOnce again, the Champion C9 brand comes through with a reasonably priced and nicely featured Running Cold Weather Quarter Zip. Find them as usual at your local Target for about $35. Champion builds the C9 Running Cold Weather Quarter Zip from a 100% poly, not quite as high-a-quality as others in the test, but nothing to be ashamed about either. Fits true to size, so no need to size up. Detailing is top notch with thumb holes, reflective accents and mesh inserts in the underarm. Given the price and quality, we found ourselves stocking up on these for the winter. Find them at
Target
.
REI Midweight Base Layer Half-Zip Top – Men's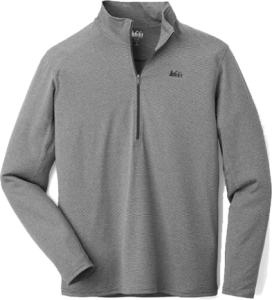 REI's inhouse brand apparel often finds its way into our gear bags. No two ways about it, the company does a nice job providing staple pieces for the outdoors. The REI Midweight Base Layer Half-Zip proves a case in point. The fabric is functional. Its fabric is low key and fashionable as well. Fit hues pretty close to the body but accommodates a t-shirt or tank underneath. We often use ours as an outer layer on chilly days and as a multi-purpose travel companion that keeps us warm on planes and out and about. The seams are flat and REI provides side gussets to help you move. Longer back to stay tucked in, if that's your flavor. About $55 at
REI
.
Thanks for reading another outdoor gear review from GearGuide.