Got a little pain? Who doesn't. Young athletes or old — walkers, hikers, runners, bikers, yoga-enthusiasts, volleyballers, footballers, whatever your poison — get the occasional twinge along the way. That probably doesn't strike you as news. Most of us find a way to deal. A little ibuprofen. A bit more stretching. That kind of thing does the trick most of the time.
Of late, new pain relief options popped to the surface. Various CBD products. Inexpensive TENS units. And a few flavors of arnica. Here's a quick rundown of our experiences with a few of those items. Our observations are personal and not meant to substitute for more scholarly research and test results (which there's plenty on the NIH website). And of course, your own personal experience could vary widely as everyone reacts differently to the application of these options.
Arnica Gel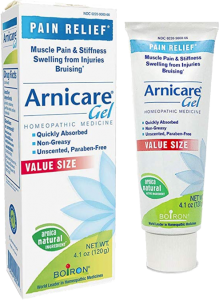 Arnica is an herb used for homeopathic remedies and pain relief. It's reported to help with arthritis, carpal tunnel, swelling, bruising and muscle pain. According to research, "despite the testimony of millions of people and the growing demand from both patients and doctors worldwide, scientists cannot understand how homeopathy works and therefore conclude that it does not." I guess we'd put ourselves in the category agreeing with the millions of people who report some benefits.
We're most familiar with arnica gel, although the herb is available in tablet and other forms. We applied it periodically to joints (including knees) and the lower back. Our experience was that pain relief was moderate. In other words, we found arnica gel helpful but not life changing. You can find it on Amazon under various brand names for less than $20.
TENS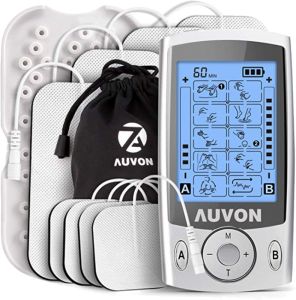 Transcutaneous electrical nerve stimulation (TENS) sounds scary but is actually pretty straight forward. Put a couple of sticky pads around the area that needs help. Connect to a cell-phone-sized device. Turn on and select a mode that feels good. Enjoy 20 minutes of buzzing. Repeat. Similar to arnica, research says, "The evidence for TENS efficacy is conflicting and requires not only description but also critique." And again, we've experienced decent results.
I experienced TENS years ago when undergoing some physical therapy. My son, a collegiate athlete, recently brought it back to my attention. TENS devices are now tiny and many cost less than $30. We purchased one from a brand called Auvon on Amazon. It promised 20 modes and came with eight pads. Some of those modes don't feel all that different from the others. But I must say, the results have been quite good. On the back and knees, pain relief is impressive. The battery lasts 50 or more 20-minute treatments (the default setting). Given our personal experience, we definitely recommend TENS. Find numerous options on Amazon.
CBD Salve

Unlike the above other treatments that demonstrate inconclusive results, "the healing properties of cannabidiol (CBD) have been known for centuries," according to materials published on the NIH website. We received a sample of an interesting salve from a company based in Kansas City recently and gave it a try.
The company Green Grove CBD uses a seven-step process for producing their CBD oil. They then turn the oils into a range of products including tinctures, gummies and topicals. Their salve comes in a half-ounce twist-up stick and contains 250 mg of broad spectrum phytocannabinoid-rich hemp extract. It's about the size of four lip balms and pretty convenient to toss into a gym bag. Again, we applied the salve to knees and back. Results were on par with arnica gel. Moderate pain relief, nothing life changing. The cost of the salve, however, is pretty steep. At more than $40 per stick, it's a very expensive experiment.
Let us know what you think by leaving a comment. Thanks for reading another outdoor gear review from GearGuide.